Updated Features
Tuesday, June 25, 2019
500 Open Misère 430
Based on customer requests, we've added an option in 500 to make the value of Open Misère (Nullo) be worth 430 points. This allows it to be overbid by any 10-level bid. When the value of Open Misère (Nullo) is 500, is can now be overbid by 10NT. When worth 520, it cannot be overbid.
A regular Misère (Nullo) bid can be overbid by any 8-level or above.
Thursday, July 26, 2018
Pinochle Min Bid 200
Based on feedback, we've added an option to set the minimum bid in Pinochle to "200" ("20" for Modern scoring). This brings our full set of min-bid options to "150", "200", and "250" ("15", "20", and "25" for Modern).
Tuesday, July 17, 2018
We've added a User Data Report for you to view the data we save associated with your account. To view, click User Data Report in the bottom section of Help.
Wednesday, April 25, 2018
Based on feedback, we've changed the behavior of switching seats during pre-game to require confirmation from the player who's seat you're trying to take. If no one is in the seat, no confirmation is needed.
Thursday, April 19, 2018
Play Play Again
We've changed the behavior of "Play Again" for "Play" games to start in a pre-game state. This gives all players the chance to get into the game before the first deal. Starting the game is delayed until either all the old players show up or their 15-second reservation expires.
The "Play Again" behavior of Compete, Join, and Practice games remains the same.
Tuesday, April 17, 2018
Computer Players Now Claim
To speed up hands when the outcome is known, our computer players now claim remaining cards when possible. This is the same as when real players are offered the option to claim.
Also, when any player claims, all players' cards are turned face-up.
Delete Custom Card Backs and Faces
You can now delete custom card backs or faces you've created but no longer want. From Card Backs or Card Faces, click on the custom image to delete then on the trash can that appears in the lower left corner of the image. Confirm the delete and it disappears.
Thursday, April 12, 2018
Customize Your Cards
We've changed the custom card backs and faces Settings feature to be free. Enjoy playing with a deck customized with photos of your liking. See Card Backs and Card Faces in Settings.
Video Chat Free Again
Based on the success of our free trial over the holidays, we're again making live video and voice chat free for players in Join games with friends.
Friday, March 16, 2018
5 and 6-Player Pitch
By popular request, we've added 5-player "call your partner" and 6-player "2v2v2" options for Pitch. These can be played with or without a kitty and are currently available for 7-, 10-, 11-, and 13-point Pitch.
Are we missing your house rules for 5 or 6 player games? Let us know using our feedback form.
Tuesday, February 6, 2018
New Year Improvements
We spent the first part of 2018 under-the-hood investigating and eliminating some infrequent issues. These improvements make our online experience even faster and more reliable.
New Video Pricing
We hope you enjoyed our free video chat in Join games during the holidays. The promotion may be over, but we're making it easier to stay connected by cutting the regular price in half. Keep playing face-to-face with your friends for just 1/min.
Tuesday, December 19, 2017
Website Payments with Stripe
Due to recent issues with Amazon Pay, our website now also offers a direct way to pay powered by Stripe.
Friday, December 15, 2017
Connect for the Holidays
Add video chat to Join games for FREE this holiday season. Play face-to-face with your friends, even if you're apart.
Note: Requires Chrome, Firefox, or our latest iOS or Android app.
Tuesday, December 12, 2017
3-Player and 1-Bid Pinochle
Based on customer feedback, we've added 3-player Pinochle along with an option for a single round of bidding (versus multi-round auction bidding). See "Players" and "Bid style" in Pinochle's More Games/Rules options.
Friday, December 8, 2017
Decorate for the Holidays
Show your style to friends and competitors with our new premium name tag feature. Your name tag shows behind your name during play and on Leaderboard panels. Visit the Name Tag setting to unlock and choose your favorite.
Tuesday, November 14, 2017
Pinochle!
Trickster Cards is introducing a Pinochle game! Users of our Trickster Cards app will find it listed in the directory of games. Users of other apps should install Trickster Cards from your app store.
Misère Fold
At the request of our Australian 500 players, we now fold everyone's hand when a Misère bid is missed.
High on Left
By popular request, we've added the ability to sort your hand with the high cards on the left instead of the Trickster default of high cards on right. Check out "Sort Cards in Hand" in Settings.
Restart Practice
Practice players will now find "Restart Hand" and "Deal New Cards" options in their player popup menu. Simply click on your player name and choose "Restart Hand" to redeal the same cards or "Deal New Cards" to redeal with new cards.
Monday, October 16, 2017
Tailored Cards Experience
Our Cards app now starts with a list of our games. Counts show where Compete and Join games are. Choose the game you want to play and we'll remember it.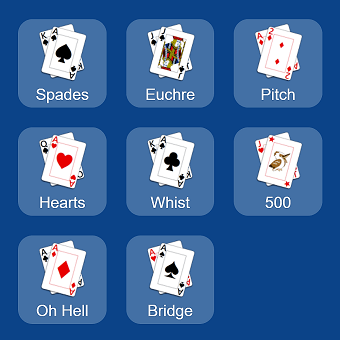 To return to the list, use the back button on the Play, Compete, Practice, Join page. To always start at the list, turn off "Remember Last Game" in Settings.
Monday, September 18, 2017
Compete List Changes
Available Compete games are now organized by buy-in level: 30, 110, or 275. Choose the level you like and only games at that level are shown. The number of available games in other levels are shown in each level button.
Schedule a Future Game
You may now schedule a game to start at a future time. When creating a new Compete or Join game, select a start time from the "When" option. Once you've created the game, you can invite friends and then "step away." Your seat will be held until the game is scheduled to start. The game will be listed on your app's main page for rejoining.
Future Games Listed
Scheduled future games are listed below current games on the Compete and Join pages. Click on a game tile and Join the game. You'll then be able to "step away" and do other things until the game is scheduled to start.
We'll remind you 5 minutes before the game is scheduled if you're currently playing or if you've turned on Notifications.
Limits on Future Games
The times for scheduling future games are limited to every half-hour in the next 24 hours. You may create or join 5 future games at a time but you can't create or join a game whose start time conflicts with one you're already in.
Friday, September 8, 2017
Play Face-to-Face
Now friends in Join games can each add live video chat for just 2 per minute.
Leaderboard Update
Starting today, only games played with at least one other real player will be ranked. Games played entirely alone will be ignored to increase ranking accuracy.
Looking for real players? Use our activity indicators () in Play to see where the action's at, or hop into an open Compete game.
Tuesday, August 8, 2017
Sign Up for Trickster Chips
Users playing as guests can earn 200 by signing up for an account.
Friends' Games History
If you receive a notification for a friend's game but don't join it, a link is preserved in your chat history. Open the chat panel, ensure you're on the Chat History page and you'll see links to games you ignored.
Friday, July 21, 2017
9-point Pitch
We've gotten a lot of requests for 9-point Pitch and today we've added it. 9-point adds the 5 of trump worth 5 points in addition to High, Low, Jack, and Game.
New 500 Rules
Thanks to our Australian players for suggesting these new options: (1) allowing the high bidder to raise his or her bid, (2) turning off Misère or requiring a 7-level bid before it, (3) forcing the Misère bidder to play their partner's hand face-up for all to see, and (4) changing the value of Open Misère to 520 points. See More Games/Rules for these new options.
Friday, July 14, 2017
Seasonal Card Backs
We've added to our set of card backs two for each season. Celebrate summer with an ocean sunset!
Explain a Rule
Clicking on any rule name under More Games/Rules now pops up an explanation of what the rule and its options mean.
Paging Recent History
To improve performance, the Trickster Chips transaction history now offers three time intervals: This Month, Last Month, and Older. Within each interval, long lists are broken into pages of 500 transactions.
Wednesday, June 7, 2017
Draw a "Pitchure"
By popular request, we've added a draw option to 4-, 5- and 6-point Pitch. Using More Games/Rules, set "Draw after bid" to Yes. When on, players are given the option to discard non-trump cards after trump is set and be refilled from the undealt cards.
Half Jack
Hearts players can now choose to play with the Jack of Diamonds worth −5 points in addition to the previous options of 0 and −10. See "Points for ♦J" in More Games/Rules for Hearts.
Tuesday, May 30, 2017
Sign In with Code
As an alternative to using a password, you can now sign in using a code that we send to the email address associated with your account. Using an emailed code is also how you Sign Up for an account. After signing up with a code, you may still add a password if you wish.
Guest vs. Account
From feedback, we've learned it's not clear when you're playing as a guest without an account. Guests risk losing their friends, Trickster Chips, and more if their app is reinstalled or their browser cookies are cleared.
To fix this, we've added the word "Guest" below your player name shown in the upper right corner of the app. Players who are guests can convert to accounts simply by adding an email address and entering the code we send to that email. Learn more at Guest vs. Account.
Wednesday, May 17, 2017
Weekly Rewards
We've added a new way for interested players to earn Trickster Chips. Watch for weekly rewards on our Facebook page and claim them via "Redeem a rewards code" in Trickster Chips.
Tuesday, May 2, 2017
3-Player Games
Spades, Hearts, and Oh Hell can now be played 3-player solo. See More Games/Rules and choose "3" in the new "Players" row (choose "4" for a 4-player solo game; Spades players choose "2 vs 2" for the standard team game).
11-Point Pitch
As requested, you can now create 11-point Pitch games. These are similar to 10-point Pitch, but with one additional point for the off-ace which ranks just below the Ace.
High Roller
Due to the popularity of the 110 buy-in level, you can now set up a Compete game with a 275 buy-in for winnings of 500 (4-player team), 1000 (4-player solo), or 750 (3-player solo). See "Winnings" in More Games/Rules of Compete.
Invitation Only
By customer request, we've added a "must be invited" option for Join games. If you set this to "Yes" in the Limits section of More Games/Rules, you must specifically invite friends to the game. Once joined, friends can invite their friends.
Spades Bot Improvement
Spades bots now better recognize when they have enough "sure tricks" to make their bid or set opponents, reducing cases where bots take unnecessary bags.
Thursday, April 20, 2017
Available Compete Games
Based on a customer suggestion, we now inform experienced players when there's a Compete game to join after a game ends—or during a Practice or Join game when you're playing alone. You can turn this off using the Notification setting for "A Compete game is available."
Euchre Go Under
Euchre with the "Go Under" option now allows you to discard any cards after picking up the 3 undealt cards. This lets you hold on to a 9 or 10 which may be useful as trump.
Euchre Bidding
In response to customer feedback, bidding a suit in which you have no cards is no longer allowed.
Thursday, April 13, 2017
Let the Competition Begin!
Our new Compete games let you challenge other players for Trickster Chips. Compete games are:
Chosen by you from a public lobby
Always started from the beginning
Started with all real players
Available with full, preset, or no chat
Ad-free
Winnings Leaderboards
New leaderboards for "# Trickster Chips Won" help rank Compete players.
Today's Leaderboard Progress
View progress toward tomorrow's leaderboards under the Statistics item in the main menu.
Show Players in Notifications
Notifications for friends' games let you see who's in the game before joining.
Pick a Seat before Joining
Click any "Open Seat" when previewing a Compete or Join game to choose your seat.
Monday, March 27, 2017
Popularity Contest
"Play" now shows you the relative popularity of the rules being played. All rules with a currently available game are shown. As before, your recently played rules are listed first, regardless of their popularity.
Preview Players in Join Games
We now show you who is in a "Join" game before you join it. To join a game, click the rules tile to open the table view and then click "Join." If there's currently no one playing, you can click "Create" to create a game with the indicated rules.
Reserved Seat Icon
When a player leaves a game, we reserve their seat until the end of the current hand or 30 seconds, whichever is longer. We used to show these reserved seats as computer players but we now show them with a clock icon . When their reservation expires, we change them to a computer player with a different name.
Play Again Reserves Seats
When a "Play Again" game is created, a seat reservation is created for real players from the previous game. This ensures that no one can take your seat if you don't get to the new game right away.
Limit Chat in Join Games
You can now limit the chat in "Join" games to just the presets or turn off chat completely. See the Limits section toward the bottom of the "More Games / Rules" form.
Manage Blocked Players
Based on customer requests, you can now view and unblock players blocked during games. From the main menu, choose Friends and at the bottom of the Friends panel, choose "My Blocked Players."
Send Feedback Change
We often get questions through Send Feedback that we cannot reply to. So, we made a minor change to require an email address if you appear to be asking a question.
Tuesday, February 28, 2017
500 Nullo Scoring
Thanks to feedback from a helpful player, we've corrected our scoring of 500's Nullo and Misère bids.
Tuesday, February 14, 2017
Scorecard Love
We've added two new scorecard fonts including our new favorite, Sharpie. See Scorecard in Settings.
Euchre Down Under
By popular request we've added an option to "Go Under" in Euchre. When enabled players may trade three 9s or 10s for the blind.
Pitch Set Trump After Kitty
Based on feedback we've refined the 3-card kitty option in 4-, 5-, and 6-point Pitch to let the pitcher select trump after receiving the kitty.
Better Whist and 500 Bots
Also thanks to some detailed feedback we've improved both our Whist and 500 bots.
Respect Forcing Bids in Bridge
Bridge bots now never pass in response to a forcing bid.
Thursday, January 19, 2017
It's Cold Outside
In line with the season, we've added two winter-themed card backs. See Card Backs in Settings.
Funny Faces
To replace our Election 2016 face card design, we've added three new face card options: Modern, Decorative & Hats. See Card Faces in Settings.
Wednesday, January 11, 2017
Filter Chat Messages
We've added a setting to display chat messages filtered of profane and abusive language. To enable, set to Yes "Filter All Chat Messages" in Settings (available in the main menu).
2 and 3 Player Pitch
Based on customer requests, we've added 2- and 3-handed play to 4-, 5-, and 6-point Pitch.
Pitch with 3-card Kitty
Also for 4-, 5-, and 6-point Pitch we now have an option to have a 3-card kitty (widow) added to the Pitcher's hand. They then discard back to 6 cards.
Sport Kitty
Our Whist players have been asking us to "Sport" (show) the kitty after bidding before play begins. We now have an option for this.
Spades Bot Nil Fix
Fixed a case where the Spades bot would bid Nil after their partner already bid Nil.
Euchre Bot Alone Fix
Fixed a case where the Euchre bot would bid alone without holding either Jack.
Friday, December 30, 2016
Game Length Options
Per customer request, Euchre, Hearts, Pitch, and Spades "Play" games now let you choose between a few common scores to play to. Find them under "More Games/Rules."
Pitch Game Point
Also by request, 7, 10, and 13-point Pitch now have options for playing with all suits and with "Game" point.
Pitch Decks
Players of 4, 5, and 6-point Pitch additionally asked for more deck options. Choose between 2-Ace (default), 5-Ace, 9-Ace, and 2,9-Ace.
Make to Win in Pitch
Based on feedback, Pitch's "Must bid to win" option now requires the bidder to also make their bid to win.
Let the Music Play
Some customers reported having background music cut off. If you set your Sounds Volume setting to 0% (off), your music will keep playing.
Tuesday, December 13, 2016
Finishers Rewarded
Based on customer feedback, we've refined the "# Games Won" leaderboard to require finishing 4 out of every 5 games (80%) to rank.
On a related note, leaving a game early counts as a loss on the "% Games Won" leaderboard.
Friday, November 4, 2016
Spades Nil Options
We've added four new options for Nil play including one that lets you turn it off. They are:
Nil or Zero: play with the Nil bid or a bid of zero
Nil pass: pass 0, 1, or 2 cards between a Nil bidder and his or her partner
Nil points: score ±50 or ±100 for Nil
Failed Nil: overtricks on a failed Nil can be bags or help the team bid
Hearts Bot Passing
A customer suggested an improvement to our Hearts bots to reduce the ease of shooting: pass a low heart. Our Hearts computer players now do this.
Tuesday, October 25, 2016
Leaderboards!
Compare your play to that of your friends and foes! Our new Leaderboards offer 3 categories of lists per game plus an "All Games" set. In addition to your rank and ranks of players in your current game, we show your top friends, top players overall, and ranks near yours. All categories can be viewed for yesterday, the last 7 days, or the last 28 days.
Badges!
In conjunction with leaderboards, we now display a badge next to a player's name when that person is the #1 player on a leaderboard, in the top 10, or in the top 10%. View their badges by clicking on their player name and choosing "Badges" from their player menu. Badges also appear next to players' names on the leaderboards themselves.
More Oh Hell Patterns
Based on customer feedback, we've added more deal patterns for Oh Hell including games with 7 and 12 as maximum cards dealt.
Tuesday, October 18, 2016
Defensive Scoring for Bid Whist
Our Bid Whist players have been asking for this: Give points to the defense if they take 7 or more tricks. Turn on by setting "Defensive scoring" to Yes on the More Games/Rules page.
Custom Card Backs & Faces
Use your own photos as card backs or faces! We've added a custom card feature to both the Card Backs and Card Faces settings. From either, choose "Add your own photos" then "Choose a photo" on the customize panel. Zoom, rotate or pan the photo as needed.
To save your design, give it a name and click the Save button. Custom backs cost 100 each as do a set of 4 custom faces. You can choose to customize a set of all 14 face cards for 200.
Players using one of our Android apps need to update to the lastest version. Feature not available on Android versions less than 5.0 and Windows Phone 8.
Thursday, September 29, 2016
Join Game Limits
Based on customer requests, you can now limit Join games with friends by forcing suggestions off or setting maximum bid/discard/pass and card play times.
Revamped More Games/Rules
We've reorganized and updated the More Games/Rules form to make it easier to understand.
Buy Trickster Chips
Players who've used up their earned chips on ad-free play or voice chat may be interested in buying additional Trickster Chips. Most players now have that option in the Trickster Chips page of the main menu.
Updated Terms of Use and Privacy Policy
Our Terms of Use and Privacy Policy have been updated to reflect the purchase of Trickster Chips and other changes.
Thursday, September 22, 2016
Bid Whist Options
We've added four options to Bid Whist requested by early customers:
make low (downtown) and high (uptown) bids equal
score double for an NT bid
give bidder the kitty and discard back to 12 cards
allow the bidder to lead the first trick
Invite via Social Media
Players who play our games in a browser can now invite friends using Facebook, Twitter or Google+. Players on a phone continue to use the device's Share feature.
Improved iOS Sound
Card play sound effects on iPhones and iPads are now better synchronized with the animation. Also, sound effects volume is now available to iOS users (see the Sounds panel under Settings).
Wednesday, September 7, 2016
Sound Effects
With help from our summer intern we've added sound effects for dealing, bidding, and card play. Existing players will not hear these until they turn them on. To do so, visit Settings, click the button below Sounds in the Features section, and set Sounds Effects to On.
Spades Min Bid 4
We've added a Spades game option for minimum bid (board) of 4. See More Games/Rules to set up a game with this option.
Spades Wheels
Also new is a Spades option to enable 10-for-200 scoring (wheels). This option awards 200 points for a successful bid of 10; 200 points are subtracted if the bid fails.
5-Point Pitch
By popular request, 5-point is now available as a Pitch option. The 5 points are high, low, jack, off-jack, and game.
Pitch Dealer Steal
Many Pitch players shared that they play where the dealer can match another player's bid and steal it. To play this way, go to More Games/Rules and set "Dealer may steal bid" to Yes.
Pitch Individual
All Pitch variations can now be played as individual games in addition to the default of partnership.
Know Your Trump
Oh Hell and Classic Whist players will now see an indication of the trump suit to the right of their player name.
Friday, August 19, 2016
Pass Pointer
In Hearts, we now aim an arrow in the "continue" button toward the player you're passing to. This also applies to passing in Euchre with Call for Best and Spades with Blind Nil passing.
More Election Face Card Choices
We've updated our election face choices with the VP and Libertarian and Green party candidates. Try the Card Faces Setting. Click on your current Card Faces value followed by "Election 2016," the face card rank to set, and the candidate of your choice.
New Game Achievements
Players of 500, Oh Hell, and Whist will appreciate the new game-specific achievements and opportunity to earn Trickster Chips.
Apps for New Games
Apps for 500, Oh Hell, and Whist are now available in the Apple App Store, Google Play, Windows Store, and Amazon App Store.
Monday, August 1, 2016
New Games
Today we roll out three new Trickster Cards' games: 500, Oh Hell, and Whist. Play them right now in your browser and look for them in your app store in a couple of weeks.
Face-down Deal
After our change to the deal animation, players asked us to deal the cards face-down. So now we do.
Customize Card Backs
With cards being dealt face-down, you may want more interesting card backs. Choose one of eight styles with our new Card Backs setting.
Bid Display
We've made the display of certain bids – Nil in Spades, for instance – more prominent based on customer feedback.
Bridge Improvements
Thanks to the ongoing feedback from players of our Bridge Preview, we've made a number of changes including on-board display of vulnerable players and fixing the calculation of the rubber bonus.
Saturday, June 25, 2016
More Chat Presets
We've added 4 more chat presets suggested by customers and reorganized the presets into one panel. Chat now has only two panels: Chat Presets and Chat History.
Push to Talk
Today we introduce a voice chat option for "Join" games with friends. Open the chat panel and click on the microphone icon () in the message box. You'll be asked to choose whether to add voice for everyone (20) or just yourself (10). Once added, voice chat is available for the rest of the game.
To send a voice chat, click once on the to start recording and again to end recording (limited to 7 seconds). Your voice chat will be sent to the other players in the game. If you close the chat panel, you'll notice a on the game board that you may also use to record.
Tuesday, June 21, 2016
Pimp Your Pips
Based on customer requests, we've added a Card Suits setting where you can choose between five different designs for your card pips. See Card Suits in the Theme section of Settings.
3-2-3-2, 2-3-2-3
A helpful fellow pointed out that the animation of our Euchre deal was not correct so we made it right.
Thursday, June 9, 2016
House Rules Rule!
We're committed to offering ways to play your favorite games your way. Toward that end, we've dedicated this update fully to new custom game rules options.
Spades
We've added Blind Nil with optional passing of one or two cards between the Blind Nil bidder and his or her partner. You choose whether to offer the Blind Nil bid always or only when a team is losing by 100 or 200 points.
Euchre
Euchre sees the addition of options for Defend Alone and No Trump bids along with an option to score 4 for a "Super Euchre" when the defenders take all 5 tricks.
There's also now "Dealer forces alone" where the partner of the dealer may only go alone or pass in the first round. Alone bidders and their partners may now exchange a card when "Call for best" is enabled. Finally, you may have the opponent to the left of the loner lead.
Hearts
New passing options allow you to set passing to always left, always right, and skip the keep hand.
You can choose to not allow dumping ♠Q until Hearts are broken. Also, there's a new scoring option that subtracts 50 points when your score is a multiple of 50.
Pitch
13-point joins 4, 6, 7, and 10. It differs from 10-point by awarding 3 points for taking the off-3. You may also set an option that penalizes you 2 times your bid if you score twice your bid.
Finally, in 4- and 6-point you may allow the pitcher to lead any suit for the first trick, instead of just trump.
Missing Your House Rules?
Let us know using our feedback form.
Tuesday, May 17, 2016
Option for Ad-free Play
By popular request, today we're introducing optional ad-free play. You can now skip ads by spending 5 units per game of our new virtual currency, Trickster Chips ().
Currently you earn Trickster Chips for each achievement level attained:  10 for level 1, 20 for level 2, etc. Visit Trickster Chips to see your current balance.
Thank You Gift
In appreciation of you being a long time player, we've credited your account with a one-time thank you gift of .
We also turned on the no ads setting. You'll continue to play ad-free as long as you have Trickster Chips.
Survey Ended
Thank you to those who completed our user survey over the last month. We gained some valuable insights for future improvements.
Thursday, April 14, 2016
Take Our Survey
To help us learn more about what games you play, what you like and don't like about our games, and what other games you may want us to add, we've added a User Survey.
Wednesday, March 30, 2016
Combine Friends, Achievements & Statistics
If you've been playing on multiple devices with separate friends, achievements and statistics, you can now combine them under one account.
On one device click your name in the upper right corner and check if you have an email address. If not, click "Sign In" then "Sign Up" and add an email and password.
On your other device click your name in the upper right corner, click "Sign In" and fill in the same email and password you used before.
Your friends, achievements and statistics are now shared across both devices.
Friday, March 11, 2016
Spades Improvements
Based on player feedback, we enhanced our Spades computer player's protection of Nil. We also addressed situations where computer players would take too many bags trying to set opponents.
Thursday, February 25, 2016
Achievement Refinements
If you leave a game before the end of a hand, you break "in a row" achievements related to your current bid.
Links to Trickster Games
In response to requests asking how to find our other games, we've added links to them in the Help menu.
Tuesday, February 23, 2016
Achievements
You now earn achievements for reaching milestones in the game. These include a mix of cross-game and game-specific goals with multiple levels.
Progress toward most goals starts "fresh" today, but we've taken existing play history into account where we could.
Tuesday, February 16, 2016
Pitch Bid Improvements
We've improved the bid suggestions and computer player bidding in Pitch, particularly 6- and 7-point.
Friday, February 12, 2016
Play Again Status
We now show an indication of the number of players who have clicked "Play Again" on the scorecard at the end of a game.
End-game player status is now indicated with for a playing-again player and for a player who left. As always, indicates a computer player (bot).
6− and 7−point Pitch
By customer request, we've added 6 and 7 point variations of Pitch in our Trickster Cards app. If you typically play other variations, send feedback and share your house rules.
Friday, January 29, 2016
Spades Mirror, Whiz & Suicide
By popular request, we've added Mirror, Whiz, and Suicide variations of Spades. In Mirror, you must bid the number of spades in your hand. In Whiz, you must bid either Nil or the number of spades in your hand. In Suicide, one partner must bid Nil and the other must bid 4 or more.
Spades Mercy Rule
With a variant like Suicide, you'll want to end the game if someone gets to −200, −500, or if one team is winning by 500. The new "Mercy rule" option lets you pick one of these.
To try either of these use the "More Games" button to choose the Spades variation or to add a mercy rule.
Monday, January 11, 2016
Election 2016 Face Cards
Get in the election year spirit by customizing your face cards with pictures of your favorite 2016 presidential candidates. Go to the Face Cards setting, click Election 2016, and choose a candidate for each face card rank.
Autoplay Forced Plays
We've added a setting where you can tell us to autoplay forced plays for you. Forced plays are when there's only one legal card you can play.
Monday, December 14, 2015
Enhanced Pregame Experience
We've given the Join game pregame experience a facelift and made it possible for you to exchange seats with a player.
Invite During Join Game
You can now invite friends any time during a Join game with friends with the new Invite Friends menu item.
Claim Remaining Tricks
Our games now offer you the option to claim the remaining tricks. This option is offered when—based only on information you've seen—you are guaranteed to take the remaining tricks.
Redeal Practice Games
We've added a Redeal Hand button to practice games in the upper right corner of the game.
Best Hand in Practice Bridge
Players practicing with our Bridge Preview are now given the hand with the highest HCP. You can turn this off by choosing More Rules and turning off "Best hand to me."
Tuesday, December 1, 2015
Expanded Notifications
We've increased the ways you can receive invitations and learn about friends' game activity by adding notifications for Google Chrome and Windows 10 app users (more coming soon). Enable and control your notifications using the new Notifications panel under Settings.
Improved Invite Friends
It's now easier to select friends to invite to a Join game. Click the "Invite Friends" button on the pre-game page and we'll list friends reachable by notification or email.
Dealer Indicator
Based on customer feedback, we've added an indication of the dealer of the hand.
Tuesday, November 3, 2015
Friends' Activity Notification
We now notify you when a friend creates or joins a game with friends and offer you a chance to join their game. You can disable this behavior in Settings.
Friends' Games List
The friends' games list shown on the "Join Friends' Games" panel now shows games your friends are playing, not just games your friends created.
Improved Computer Players
Our Spades computer players bid a bit better and our Hearts computer players pass more defensively.
New User Tips
New users will now see tip bubbles the first time they encounter certain aspects of game play. Each tip is shown only once.
Monday, October 12, 2015
View Last Trick
You can now look at the last trick taken by clicking on a taken pile or the current trick area. Close the last trick display by clicking the white X or anywhere outside the last trick area. The last trick will automatically disappear when the next trick is taken.
Chat Presets in Join Games
In response to customer requests, we've added the chat presets from automatch Play games to the chat experience in Join games.
Chat History in Automatch Games
We've moved the emoticons from the third chat panel to the top rows of the first two panels and added the game's chat history on the third panel.
Wednesday, September 23, 2015
Friends' Games Indicator
A count of your friends' active Join games, if any, is displayed in the upper right corner of the Join button on the home screen.
Bridge SAYC Improvements
Correctly bid after partner raises our opening suit (for example, 1♥-2♥), recognize Stayman and Jacoby transfers after 2♣-2♦-2NT/3NT, and add Cappelletti for overcalling a 1NT opening.
Monday, September 14, 2015
Name Displayed on Home Screen
Last week we started displaying your user name, if any, in the upper right corner of the home screen. We also removed the name fields from the game forms to streamline joining games.
To change your name, simply click or tap the name displayed in the upper right corner, edit your name, and click "OK" or "Update"
Wednesday, September 9, 2015
Custom Rules in Play Games
By popular request, we've added custom rules in automatch "Play" games. This comes with a new look that shows your recently-played rules along with rules currently popular in the system. If you don't see the rules you want, click the "More Rules" button and choose your own.
Join Games with Friends
The "Join" page now shows active games organized by your friends. In addition to adding friends in automatches (see below), you create a friend when you join a game from an invitation or with a game code. You can view a list of your friends using the new "Friends" item in the main menu.
Make Friends in Automatch Games
You can now ask a fellow player to be your friend, enabling you to play Join games with them. Join games allow unlimited chat in addition to being able to choose your seat before the game starts.
Saturday, August 29, 2015
Bridge
A preview version of Trickster Bridge is now available for play in the Trickster Cards app or at bridge.trickstercards.com.
Enhanced Statistics
The statistics page has been reorganized and shows additional items based on game type.
Wednesday, August 12, 2015
Send Feedback
We've simplified giving us feedback on our games with a built-in form — find it in the menu under Help > Send Feedback.
Tuesday, July 28, 2015
Improved Join Invites
Recipients of join invite links can now choose to play in the appropriate app in addition to their web browser.
Tuesday, July 21, 2015
Spades Computer Improvements
Better prioritize making our own bid versus setting opponents' Nil.
Lead Spades Options
We've added new "Lead spades" options for Practice and Join Spades games. You may choose "After Broken" (the default), "After First Trick," or "Anytime."
Loner-5 Euchre Option
Euchre players may now require a "loner" to take all five tricks or be Euchre'd. See "Alone must take 5" option available in Practice and Join games.
Thursday, July 9, 2015
Euchre Computer Improvements
We fixed some issues where computer players took the bid with a weak hand and improved how they play in 3rd and 4th seat.
Tuesday, July 7, 2015
Links in Chat Messages
In response to a customer request, we now recognize URLs in chat messages and convert them into clickable links. This applies only to chats in Join games and after Play games.
Volume Setting
We've added a setting to control the volume of the handful of sound effects played during the game.
Wednesday, July 1, 2015
Play Again with Same Players
Choosing "Play Again" after an automatch game now prioritizes putting you in a new game with the same group of players. Don't worry if other players leave — we'll fall back to finding a different group for you to play with.
Tuesday, June 30, 2015
Fix for Stuck Pitch Games
We found and fixed our bug that was causing some 10-point Pitch games to get stuck with the error "Asked to start the hand but not all players have 6 cards."
Tuesday, June 9, 2015
Refined Setting Nil Bids
Based on feedback from our last update, Spades computer players now better balance making their own bid while trying to set a Nil.
Monday, June 1, 2015
Improved Spades Computer Players
We made a number of improvements to our Spades computer players based on feedback. Highlights include remembering when others are void and an increased willingness to set opponents by taking bags or targeting Nil bids.
Post-Game Chat Visibility
We heard many of you would like to chat after games, but don't feel this is noticeable. To help, we added a "Chat" button directly to the scorecard at the end of the game.
Audible Countdown Timer
Based on feedback that the countdown timer can be easy to miss if you glance away, we added a chime during the countdown. This and other sounds can be individually turned on/off in the settings.
Remove Players During Join Games
You can now remove players during any Join game you created by clicking their name and selecting "Remove". This is useful if another player has gone idle, but didn't leave the game. Removed players will be replaced by a computer.
Tuesday, May 5, 2015
Pitch Available
Users of our new Trickster Cards app can now choose Pitch (also known as Setback) from the list of available games. Both 4-point and 10-point varieties are available.
Mute Chatty Kathies
You can now suppress chats from a specific player by clicking on the player's name and choosing "Mute" from the popup menu. This lasts for the remainder of the game or until you unmute them using the same popup.
A Little More Time to Play
Based on user feedback that we went a bit overboard with last week's "Faster Play Games" change, we've adjusted the computation of time to play.
Ad Refinement
We've added a mute button to ads and extended the minimum time between ads to 10 minutes.
Wednesday, April 29, 2015
Faster Play Games
Automatch "Play" games may feel a bit faster. The maximum time to play a card is now computed based on the speed of the players in the game: if all players are fast, the time-to-play is short; if all players are average or slow; the time-to-play is longer.
Bags in the Corner
Based on multiple customer requests, we've added the count of "bags" in Spades games to the score summary displayed in the lower right corner of the game table on tablet or larger devices.
Tuesday, April 14, 2015
More Predefined Chats
Based on popular request, we've added more predefined chat messages for Play games. There's also a set of emoticons for your enjoyment. Flip through the available messages using the arrows at the bottom of the chat window.
Start Phase-In of Ads
Starting today, some users will begin seeing video ads before the start of a game. Over the next 4–6 weeks, ads will be phased in for all users.
We chose to go with pre-game video ads instead of in-game banners to keep the distraction to a minimum during play.
Wednesday, March 25, 2015
Turn Off Chat
Based on user feedback, we added a setting where you can turn off chat. See Settings in the main menu and the on/off switch in the chat panel.
No Bags Penalty Option
We added an option to Spades Practice and Join games that allows you to turn off the −100 points penalty for collecting 10 bags.
Monday, March 3, 2015
Title Bar on Portrait Phones
When playing on a portrait phone, we've added a title bar across the top edge that contains the menu icon, game name, and, when available, the chat icon.
Improved Display of Euchre Alone Bid
We've made the display of a Euchre Alone bid clearer by adding the word "alone" to the bid display. We now also fold the hand of the alone player's partner.
Thursday, February 19, 2015
Block Playing with Certain Users
We've added the ability to stop playing with users you prefer not to play with. To block playing with a user in future automatch games, click or tap the name of the player and choose "Block Player" from the pop-up menu.
Don't Break My Hearts
In response to a customer request, there's a new option for Hearts Practice and Join games that lets you determine whether the Queen of Spades breaks Hearts.
Leave and Forget
When you leave a Practice or Join game with the Leave Game menu command, we now ask you whether or not to save the game in your "In-progress Games" list. Previously, all games were automatically saved.
Thursday, February 5, 2015
On-screen Score Summary
On wide enough screens, we now display a score summary in the lower right corner. Clicking this summary opens the full scorecard.
Improved Messages in Scorecard
Based on feedback, we've improved the readability of the end-of-hand score messages displayed in the scorecard.
Tuesday, February 3, 2015
Join Late
A friend you've invited to a game may now join your game after it's been started by using either the 5-digit game code or the emailed link. You no longer have to wait for everyone to show up when organizing invite games with friends.
More Prominent Trump Display
Based on customer feedback, we've made the display of trump in Euchre games more prominent. It now appears as a suit symbol overlaying the maker's hand.
Scoring Messages Moved to Scorecard
The messages that explain how the end-of-hand score was calculated now appear in the scorecard instead of the message bar at the top of the screen. This makes the last message available whenever you view scores.
Tuesday, January 29, 2015
Play Again
We've added a "Play Again" button to the scorecard displayed at the end of a game. This button automatically puts you into a new game with the same rules.
Automatch Prefers Close Games
We've enhanced the automatch logic to avoid placing you into a game where the difference between the high and low score is more than 30% of the game over score.
Won't Rejoin Same Automatch
If you leave an automatch game using the "Leave Game" command in the main menu, you won't be placed in the same game if you again press "Play."
Tuesday, January 27, 2015
Euchre Autoplayer Improvements
Based on specific customer suggestions, we improved the play of the Euchre computer autoplayer to play better when their partner makes trump.
Friday, January 23, 2015
Stick the Dealer in Euchre
We've added the popular "Stick the Dealer" option to Euchre Practice and Join games. This option requires the dealer bid at the end of the second round of bidding.
Jack of Diamonds in Hearts
Based on multiple customer requests, we've added support for the "Jack of Diamonds" option to Hearts Practice and Join games. When enabled, 10 points are subtracted for taking the ♦J. The computer players have been updated to play well with this option enabled.
Wednesday, January 21, 2015
Chat in Automatch Games
We're introducing chat in automatch games with a limited set of 7 quick messages. To send, simply click or tap the chat icon followed by one of the quick messages. When the game is over, the full chat experience is available so you can discuss the game in more detail.
Tuesday, January 20, 2015
Play Matching by Score and Speed History
Recently we started matching players in automatch games by their average hand score and play speed. The result is that fast players will no longer be put in a game with slow players and players who average a lot of points per hand won't be paired with those who don't.
Enhanced Statistics
The statistics page now shows the number of hands you've played, your average points per hand, number of cards played, and average seconds to play a card. Also shown are the overall averages of all players' points per hand and seconds per play.
Refreshed Settings
We've refreshed the settings dialog with a new look and made theme changes take effect immediately, giving you an instant preview.
Help
There's now a Help item in the main menu and help topics for our three games. These explain basic play, scoring, and the game options supported by Trickster Euchre, Hearts, and Spades.
Wednesday, January 14, 2015
No Waiting for Disconnected Players
When a player in a "Play" game disconnects, the computer now auto-plays for them. If they return within 30 seconds, they'll get their seat back. After 30 seconds, we open the seat to new players.
Monday, January 5, 2015
Chat with Friends
To start off 2015, we're introducing text chat in Join games. Simply click or tap the chat icon in the upper right corner and send a message to your fellow players.
When chatting, a sound is played when a new message arrives and when it's your turn to play. You can turn off sounds in the Settings dialog.
Chat is currently only available in Join games. We plan to enhance it and bring it to automatch games in the future.
Thursday, December 11, 2014
Play Suggestions
Want a little help bidding or choosing a card to play? We've added play suggestions that highlight the recommended bid or card. Suggestions are off by default. Enable them in the Settings dialog using the "Show Suggestions" option.
Game Options Remembered
We now remember your last game options (by game) and restore them each time you visit or sign in. This makes it easier to play your favorite game variation or "house rules."
Sunday, December 7, 2014
Restored Hearts & Spades Scoring
We experimented with "quick game" scoring earlier today. We've since learned many of you prefer "full games" so we've restored them. We'll continue to listen to feedback and consider "quick games" as an alternate option in the future.
Faster Hearts & Spades Automatch Games
Hearts and Spades automatch games now use "quick game" scoring (75 for Hearts, 300 for Spades) making it easier to play full games.
Improved Starting & Leaving Join Games
Join games now wait for the creator to click "Start Game" and players leaving mid-game will be replaced by a computer player.
Friday, November 21, 2014
Spades Automatch Options
You can now choose your favorite Spades variation and scoring style when playing an automatch with anyone. We'll match you up with others who want to play by the same rules.
Thursday, November 6, 2014
Partnership Hearts
Based on customer feedback, we've added partnership play as an option to practice and join games of Hearts. The game plays like normal but partners' scores are added at the end of the hand—this includes shooting the moon.
Wednesday, October 29, 2014
Join Friends' Games with 5-Digit Code
You may now join a game by entering an optional 5-digit game code. Get this code from your friend who created the game.
Enhanced Invite Friends Dialog
The Invite Friends dialog now displays a 5-digit game code your friends can use to join your game. We've also added an email button you can use to send the code using your email app. As before, we can email the game link for you. Just enter 1, 2, or 3 of your friends' email addresses in the fields provided and click OK.
Thursday, October 23, 2014
Bid Buttons in Spades/Euchre
We've replaced the bidding drop-down with buttons representing each bid. This makes bidding a one-click action and much easier to use on phones.
Show Bags in Spades Scorecard
The scorecard in Spades now displays the number of bags next to each score. This is particularly useful for negative scores where bags are less obvious, for example, "-28 (2 bags)".
Tuesday, October 21, 2014
New Spades Variations
In response to customer feedback, we've added Spades variations for Joker-Joker-Ace, Joker-Joker-Deuce-Ace, and Joker-Joker-Deuce-Deuce. These variations are available in the More Options section when creating a new Practice or Join game.
Show Cards Passed in Hearts
Also in response to feedback, cards received in a pass are briefly displayed raised in your hand.
Highlight Trump Setting
We've added highlighting of trump in Spades and an option to turn this off in Settings. Euchre players may now turn off trump highlighting, if desired.
Monday, October 6, 2014
Cards in Hand Space Out
As you play cards from your hand, the remaining cards space out to give you more room to play them.
Updated Settings
We've updated the timing options in the settings panel to make more sense and work more consistently. On larger screen devices, we now animate the deal from the dealer, which rotates each hand.
Mobile Device Tip
You can increase the accuracy of playing cards by pressing and holding your finger on a card in your hand. That card will slightly raise but not play. You can then slide your finger left and right raising different cards. When you've got the correct card, lift your finger and the card will play.
Monday, September 8, 2014
Play a game with anyone
Automatically be placed in a game with others. If no games are available, a new automatch game will be created which others may join. Automatch games use default game options.
To keep automatch games moving, each turn has a time limit. After the time limit plus a 5-second countdown, the turn will be auto-played. If a player leaves a game, a computer player will sub-in until another player is available.
Practice against the computer
Quickly start a game with three computer players. You can customize the game options to fit your house rules.
Join a game with friends
Choose or create a custom game where you control the rules and who can play. Invite your friends by sharing a link or via email. Optionally add computer players to fill empty seats.