Club Event Lobby
When the scheduled start time for a club event approaches, an event lobby is opened. Players who have confirmed that they are playing may receive a notification of the lobby being open. Club members who have not confirmed may still join the event if it is open to all club members.
Full text chat is available in the event lobby. While waiting for the event to start, you can enjoy conversation with your fellow club members.
Players in the Trickster Cards app, will see a "Club Event" button above the Play, Join, Practice and Compete buttons on the main page of the app.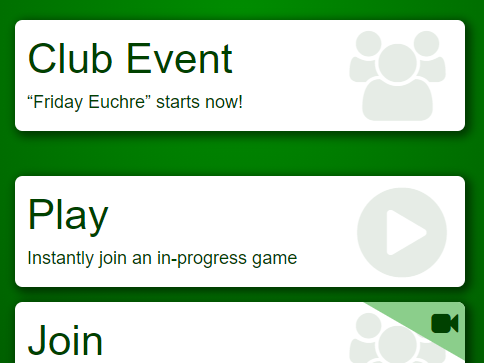 A Club Event button for an event named "Friday Euchre"
In the Lobby
Once you enter the event lobby, you will see information about the event followed by lists of players who are present and ready and confirmed players not present.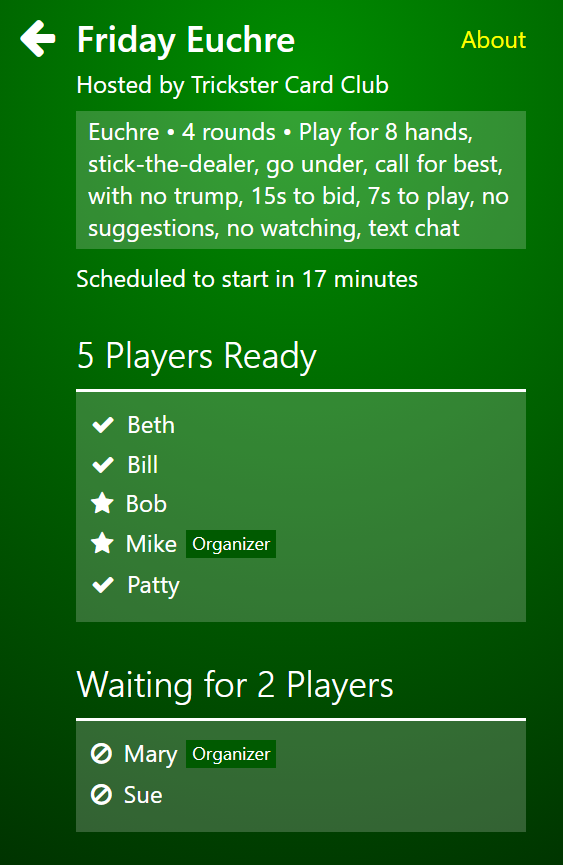 The event lobby for an event to start in 17 minutes
The example above shows an event where 5 players are ready, and 2 players are not. Of the 5 who are ready, the 2 with star icons are confirmed players; those with checks are club members who did not confirm but are present and may play. Those players listed in the "Waiting for" list are confirmed players.
The title of the page contains the name of the event. After that is the hosting club followed by a block showing the game, number of rounds, and rules summary. Following the rules block is the time remaining until the event starts.
Starting Round 1
If all confirmed players are ready, an event organizer can start the event early.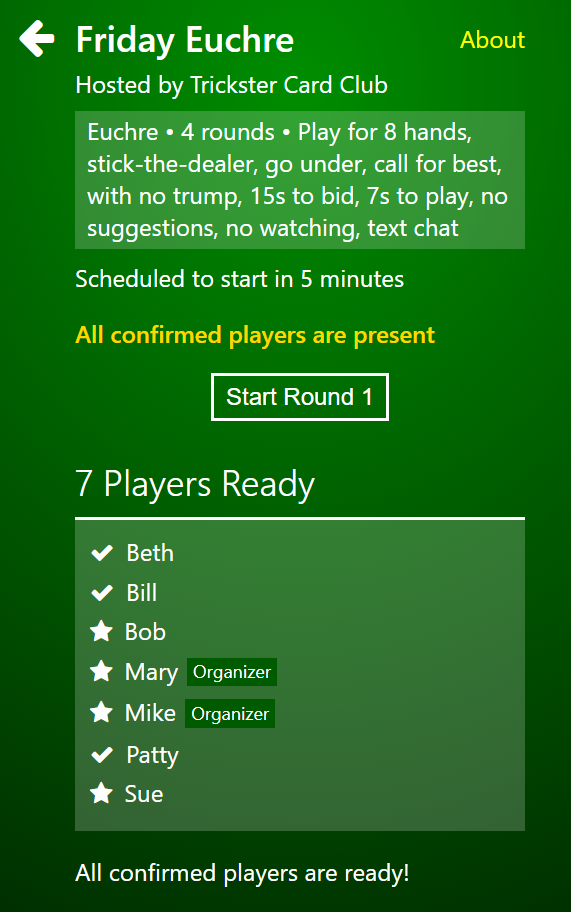 Event organizer can start event when all confirmed players are present
If the event time arrives, an event organizer can start the event even without all the confirmed players present.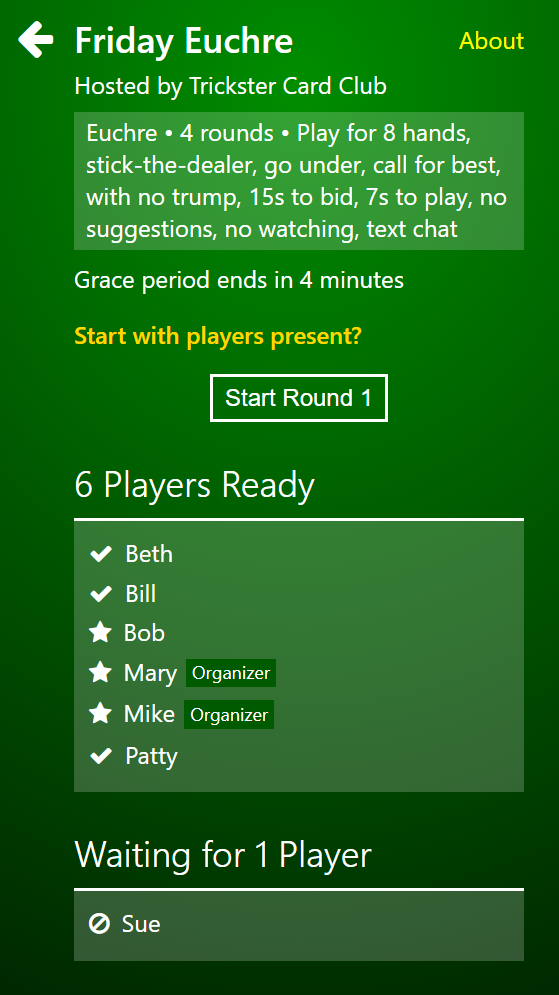 An event where 1 confirmed player is not present
When the grace period expires, any player present may start the event. Only those players present are put into games.
A star icon in the Players Ready section indicates a confirmed player who is present. A check mark icon is a non-confirmed player present.
Being Ready
Being "ready" means you are in the app and on the event lobby page. If you leave the page or go to another app or browser tab, you will not be ready.
To summarize the conditions for starting an event:
An event open to all club members may be started at any time an event organizer. It may be started by any player when the grace period expires.
An event where players must be invited may be started when all confirmed players are present. If some confirmed players are not present, organizers may start the event, but non-organizers must wait until the grace period expires before starting the game.
In either case, the games are created only with the players present.